Black Jack's Crossing
Experience World-Class Golf at its Finest!
Golfweek, the leader in golf course rankings, ranks Black Jack's Crossing the #1 Course You Can Play in Texas, #38 Resort Course in the USA and the Dallas Morning News has ranked Black Jack's Crossing the #1 Course You Can Play in Texas since 2013! Texas Outside ranked Black Jack's Crossing the "Number One Resort Course in Texas" and Golf Magazine calls Black Jack's Crossing the "Most Beautiful Course in Texas".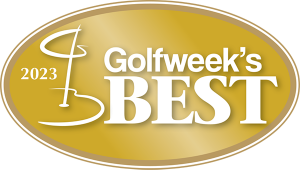 Course Overview
Architect: Lanny Wadkins
Director of Golf: Brian Pionkowski
Par: 72
| | | | |
| --- | --- | --- | --- |
| Tees | Yardage | Men's Rating/Slope | Ladies Rating/Slope |
| Black | 7413 | 74.3/131 | |
| Maroon | 6858 | 71.9/126 | |
| Gold | 6111 | 68.6/120 | 74.2/139 |
| Rose | 5442 | 65.2/108 | 70.6/133 |
Location & History
Located at Lajitas Golf Resort, a 27,000-acre resort along the Rio Grande, Black Jack's Crossing was designed by golf superstar Lanny Wadkins, winner of the 1977 PGA Championship, eight-time member of the US Ryder Cup team (as well as 1995 team captain), and inductee into the World Golf Hall of Fame.
Named after U.S. Army General, "Black Jack" Pershing who pursued Pancho Villa across the Rio Grande, the golf course combines the historical features of the land with the stunning setting of Big Bend National Park. Several breathtaking mountain holes set against spectacular mountain vistas make this course a true work of art.
The historic Lajitas Trading Post (ca. 1800's), having survived the battles of Pershing, serves as the Pro Shop and Longhorn Museum. The Trading Post (now used as Black Jack's Crossing Clubhouse) is a remnant from the early Texas Frontier where cowboys and miners bartered for supplies and drank whiskey.
One word of advice: Don't forget the camera to bring home memories of this world class golf course!
The Pro Shop
The Pro shop at Black Jack's Crossing is located in the historic Lajitas Trading Post, built in 1899, which also houses the Longhorn museum. Operating hours are 8:00AM to 5:00PM every day of the week and we can be reached at 432-424-5080.
Club storage is available for our guests who wish to store their clubs at the pro shop during their stay.
Rental clubs are available for both men and women in right and left handed for $100.00 per set (18) holes and $70 per set for (9) holes; both include 6 Callaway golf balls. Please contact the pro shop to make a reservation.
Currently beer and sodas are sold in the pro shop. Outside coolers or alcohol is not allowed and glass bottles of any kind are not permitted.
Lessons from our PGA staff are available for any skill level.
The Driving Range closes for the day at 3 PM on Tuesdays and reopens at 12 PM to 9:30 AM on Wednesdays.
Green fees published below.
E-Club
Sign up for our E-Club to receive our email blast with Stay & Play packages, membership specials and other special events at Black Jacks Crossing/Lajitas Golf Resort. Simply fill out the below information and submit. You will be sent an opt in confirmation to verify your email address. Immediately start enjoying the benefits of being part of our E-Club.
Events / Tournaments
Allow our event planners and golf professionals to plan, coordinate and execute your golf event. Whether it's a social, corporate tournament or golf get-away, one thing remains constant: Black Jack's Crossing is committed to providing you the ultimate golf experience. We will customize your event providing you and your players the most enjoyable golf experience.
For more information complete the contact form or call (432) 424-5080.
Green Fees
Green Fees on Black Jack's Crossing – the #1 Course You Can Play in the State of Texas!
Resort or RV Park Guests (Rates effective January 1, 2024)
18 holes: $195 plus tax
9 holes: $150 plus tax
Same day replay: $150 plus tax
18 holes Jr.: $125 plus tax
9 holes Jr.: $100 plus tax
Non Resort or RV Park Guest
18 holes: $295 plus tax
9 holes: $175 plus tax
Same day replay: $175 plus tax
18 holes Jr.: $150 plus tax
9 holes Jr.: $125 plus tax
Member Information
Dues – Individual: $250 per month
Dues – Family: $300 per month
18 Holes: $45 plus tax
9 Holes: $20 plus tax
Member Guest 18 Holes: $125 plus tax
Member Guest 9 Holes: $100 plus tax